Features
Pressure/Vacuum Setting – 2.5" to 6" water column pressure settings and -6" to -10" water column vacuum settings are factory preset and tested.
Reliable Service – Cycle tested to the equivalent of 80 years of service in the most severe environment without leakage problems.
Corrosion-Resistant Construction – A Duratuff® composite body assures a long service life.
Easy Installation – The 623V is available in 2" and 3" threaded versions.
Complies with NFPA 30 Requirements – for venting gasoline vapors upward.
Manifold Vent Pipes – Vent pipes may be manifolded to produce a single Pressure Vacuum Vent line. The 623V exceeds California's requirements of a maximum vapor leak rate of 0.17 SCFH at 2.00 inches H2O.
High Maximum Flow Rate – 6450 SCFH at 2 psi (0.1 bar) pressure drop.
Leak Rate – Multiple pressure vacuum vents may be installed on a single site. The 623V exceeds California standards with a leak rate of 0.05 SCFH or less at 2.00 inches H2O.
Maintenance – No tools required. A removable snap fit top allows for easy maintenance (recommended yearly).
100-Mesh Stainless Steel Wire Screens – Helps prevent debris and insects from entering the tank vent lines. An added screen installed at the base prevents debris from intruding from the vent stack.
Adaptor Bushing – Removable Hex threaded bushing designed for easy installation on NPT threaded risers. Allows easy access to lower screen.
ATEX Approved – For flame arrestor applications.
Materials
Top/Body: polypropylene
Base: anodized aluminum
Poppet: anodized aluminum
Screen: stainless steel mesh
Gasket: closed cell foam
Listings and Certifications

Patent No. WO2004/036096AZ

Ordering Specifications
| | | | | |
| --- | --- | --- | --- | --- |
| Product # | Description | Identification Label Color | lb. | kg |
| 623V-2203 | 2.5" to 6" WC Pres., -6" to -10" WC Vac. Thread-On | Yellow | 1.55 | .70 |
| 623V-3203 | 2.5" to 6" WC Pres., -6" to -10" WC Vac. Thread-On | Yellow | 2.20 | 1.00 |
Conversion Table
| | | | | | | |
| --- | --- | --- | --- | --- | --- | --- |
| Measurement Units | = | Oz. | PSI | PSI (WC) | (Merc) | Bar |
| Bar | x | 236.0 | 14.5 | 401.4 | 29.53 | |
| In. Hg (Mercury) | x | 7.843 | 0.49 | 13.6 | | 0.034 |
| In H2O (WC) | x | 0.578 | 0.04 | | 0.074 | 0.002 |
| PSI | x | 16.00 | | 27.68 | 2.04 | 0.069 |
| Oz. | x | | 0.063 | 1.73 | 0.128 | 0.004 |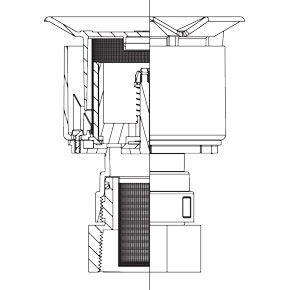 Replacement Parts
| | |
| --- | --- |
| Part Number | Description |
| C05086M | Lower Screen |
| H14895M | Upper Screen |
| C05089 | 2" Threaded Base Adaptor |
| C05122 | 3" Threaded Base Adaptor |