Product Characteristics

Streamlined appearance design, simple, generous.; High precision flowmeter makes metering more accurate and life longer.; Large LCD display (with light switch) and stainless steel.; Industrial computer design, more stable and reliable operation, easy to operate.; Optional IC card machine linkage function, can be directly connected to the background computer.; Excellent electromagnetic compatibility and anti-interference performance.; Rainproof, moisture-proof, sand-proof and explosion-proof.; Can also personalized function high-end customization.

Mainboard Main Advantage
Constant voltage allows your machine to last longer;
Equipped with filter: anti-electrophoresis,anti-interference;
Equipped with multiple fuses for added safety;
The number of display bits on the mainboard can be 886 and 664 digital, press the transfer switch to change the number of display digits immediately.
A motherboard can control multiple refueling nozzles. We Provide 1 motherboard control for 2 nozzles or for 1 nozzle, even for 1 to 6 nozzles.
The motherboards of all our models are universal. there is an interface on the motherboard that can be easily converted.
The motherboard is equipped with an emergency shutdown battery, If your machine is powered off, the motherboard will still display your fuel quantity, liters and amount on the screen.
The motherboard is locked with a password and requires a password to operate, greatly improving security.
Troubleshooting is very simple. When there is a problem in certain parts, an emergency flashing red light will light up to remind you to check machines.


Technical Parameter
Flow Rate:(70~80)L/min
Noise:Mute
Inlet vacuum:≧54kpa
Power:DC12V/24V
Environmental temperature:-40℃~+55℃
MPE:±0.3%
Minimum measured:0.05L
Single count range: volume/amount:0~9999.99L/yuan
Accumulative counting range: volume/amount:0~9999.99L/yuan
The unit price range:0~9999yuan/L
RH:30%~90%
3/4 inch & 1 inch


Product Advantage
Structure: reasonable distribution of internal structure, convenient for daily maintenance.
Operating system: drive the main board, power board, display screen, keyboard are independent operation so that it has a strong anti-interference and stability.
Operation method: easy to understand, more intelligent
Packing: wooden case packing safety class.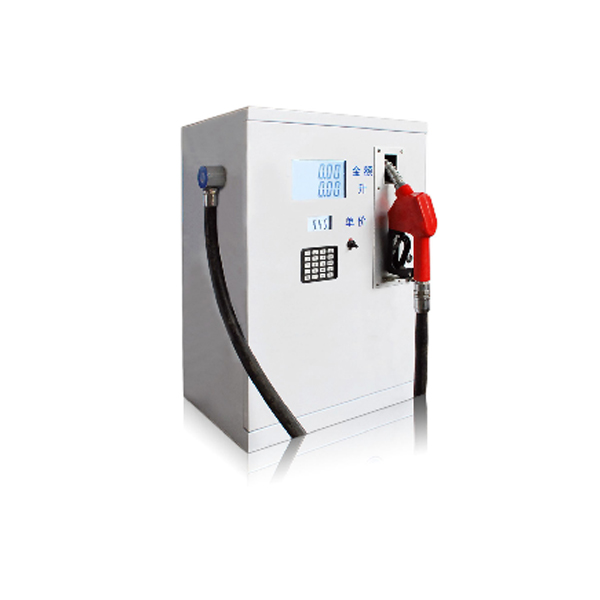 MINI Truck Dispenser Dimensions: 530*380*350 mm